July 8, 2014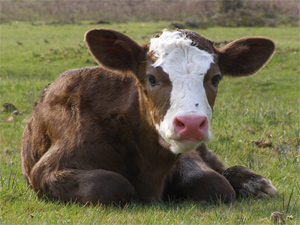 Most people believe that the way a cow produces milk for humans is as natural as a bee pollinating a flower. The majority of dairy food consumers don't realise that these cows are typically artificially impregnated each year and that over one million young babies (called "bobby calves" by the farming industry), are considered to be an annoying waste product. The fact is, that while cows naturally produce milk, it's only as much as is needed to feed their offspring when they have them. In order to produce it in the vast quantities demanded for mass human sale and consumption, artificial methods are required that are traumatising to both the mother and baby.
The primary concern for dairy farmers is that cows will only produce milk when they have a calf to feed. However, if the calf is drinking this milk and growing into a full grown animal, they won't be able to collect it for sale and production. Therefore "the solution" is to repeatedly artificially inseminate dairy cows to ensure they're constantly in a state for milk production (commonly referred to as AI). Not only is this stressful for the body of the cows, it creates another issue for dairy farmers – a large number of unwanted and unneeded bobby calves.
Every year in Australia approximately 700,000 bobby calves are slaughtered1. In New Zealand it is around 1.5 million each year2. The bobby calves are typically taken from their mother soon after birth, an event that is traumatic to both of the animals, as the maternal bond is extremely strong even before the baby is born. Once bobby calves are separated from their mother in holding pens, there are very few rights to protect the animals at this stage. Crowded and highly neglected, dairy farmers are only legally required to give them one meal per day2.
In New Zealand farmers are legally not required to feed them 30 hours before slaughter. The actual killing is usually not done on the farm – the bobby calves are loaded on to trucks and transported to abattoirs. Although New Zealand law states the calves must be at least four days old before they can be killed off, they are often in a weak and malnourished state.
The entirety of their extremely short lives is spent in varying stages of suffering and trauma, and all of this is completely legal under present dairy farming guidelines. While the very concept of bobby calves is repugnant enough, the manner in which calves are killed has also been called into attention in recent years. In February 2014, a man was recorded literally clubbing bobby calves to death on a New Zealand owned farm in Chile3. Although local industry authorities deny strongly that the same thing happens here, it's a difficult thing to enforce and regulate.
Some 'lucky' bobby calves that live longer are raised for veal production. Veal has an international reputation as being one of the cruelest meats because of the extreme confinement and strict diet required to produce it. The calf is fed a synthetic formula that is intentionally low in iron to keep the animal anemic and keep the flesh pale and tender. After a few months of pain and suffering, they are slaughtered for meat.
Even without physical acts of violence, it's definitely true that acts of emotional and mental torture are perpetrated against young animals on a daily basis. Since this is so deeply rooted in the success of the industry, it's a difficult thing to stop, especially when the same government agency (the Ministry of Primary Industries) that is in charge of animal welfare is also responsible for promoting the dairy industry in general. This is a clear cut conflict.
It's crucial for the general public to take a stand against the suffering of bobby calves and make it clear that this cruelty is not acceptable. The best step is to avoid consuming dairy and veal products, since they cause immense suffering to cows, are harmful to the environment4 and cause health issues for humans5.
Sources:
1. Peta.org.au: Bobby Calves – a 'Waste Product' of the Dairy Industry
3. NZFarmer.co.nz: Animal abuse claim sparks law reform change call
4. Vegans.co.nz: 1,000 Litres Of Water To Make 1 Litre Of Milk
5. Vegans.co.nz: The Great Milk Myth
November 30, 2015 Update:
NZ Diary Industry Exposed by SAFE and Farmwatch.
10 Responses to "The Horrific Life Of New Zealand Bobby Calves"
Enter Code: *
Do not include website links or HTML in the reviews, they will be removed.